Preparing yummy sandwiches for your breakfast or as an evening snack is no more a time-consuming task or difficult to prepare. With a sandwich maker at home, you can treat yourself to delicious sandwiches with different fillings each day. If you love to eat sandwiches regularly, this is one of the must-have cooking appliances in your kitchen. However, if you are a first-time buyer, you're most likely to feel daunted looking at the vast range of sandwich makers available in the market. Here's a walk through the most important things that you need to consider when buying a sandwich griller.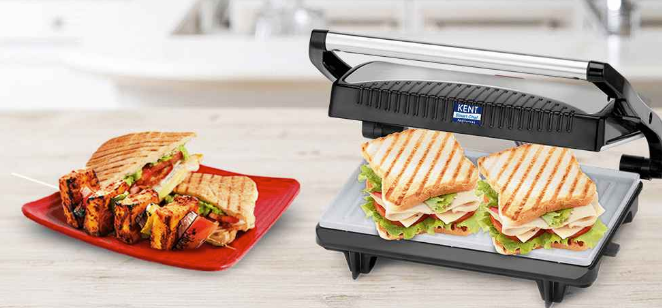 Cooking Surface
When buying a sandwich maker, it's very important to consider the cooking surface. Always remember that a good quality sandwich griller would come with a non-toxic ceramic surface coating. This ensures that the sandwiches don't stick on the plate or burn. A non-stick surface also ensures that you can use less butter or oil on your sandwich.
Ease of Maintenance
Let's say you made a double cheese sandwich. Just imagine how messy it would be to clean if cheese is stuck all over the surface. Look for a sandwich maker that is easy to clean. When you opt for one with a non-stick ceramic coating, it would be very easy to clean the appliance with a tissue or moist cloth.
Number of Slices
Choose for a sandwich griller that can make at least four sandwiches at a time. This would make it one of the best cooking appliances to handle busy mornings.
Automatic Operation
Buy a sandwich maker that comes with an automatic shut-off feature. This way, you would not have to compromise on undercooked or burnt sandwiches. You can make perfectly grilled sandwiches each time.
Multifunctional Grill
A sandwich maker that can double up as one of the cooking appliances to grill items like chicken, fish, vegetables and paneer in addition to sandwiches would be a great choice. Your breakfast or snack time can turn out to be more filling with such an appliance.
Considering the above-mentioned things will certainly help you buy the best sandwich maker for your needs.
Also Read- A Detailed Guide for Buying Sandwich Maker